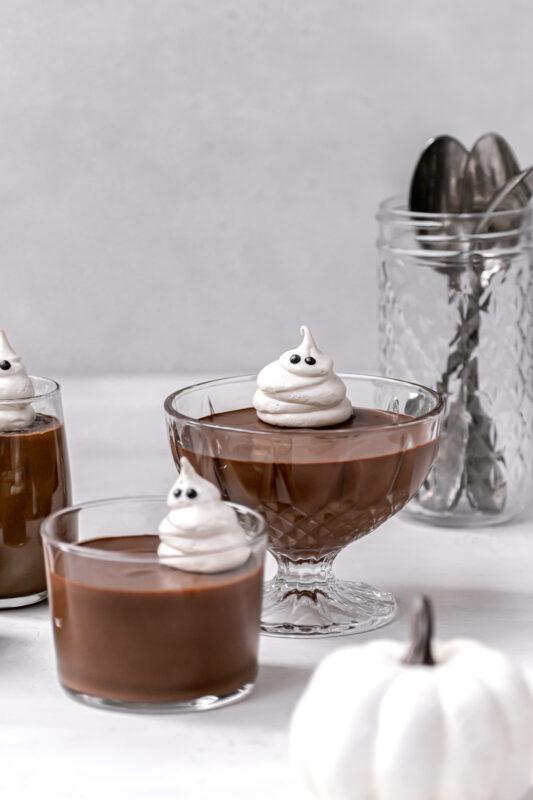 Ingredients:
For the chocolate pots de crème:

1 cup (227 grams) Cass-Clay chocolate milk
1 cup (227 grams) Cass-Clay heavy cream
10 ounces bittersweet chocolate
2 egg yolks

For the ghost meringues:

2 (70 grams) egg whites
½ cup (100 grams) granulated sugar
 Black sugar pearls (for the eyes)
How to:
For the chocolate pots de crème:
In a medium saucepan, whisk chocolate milk and heavy cream, and bring to a simmer. Chop chocolate into chunks and place in a large bowl. Pour hot chocolate milk/heavy cream mixture over chocolate and let sit for 1–2 minutes. Gently stir the mixture until the chocolate is fully melted and everything is fully combined. Allow to cool for about 10 minutes.
Quickly whisk egg yolks into chocolate mixture until fully combined. Pour chocolate into 4–6 cups and chill for at least 2 hours or overnight.
For the ghost meringues:
Heat oven to 200 F and line a baking sheet with parchment paper. In a small bowl, whisk the egg whites and sugar. Place the bowl over a small saucepan with simmering water. Whisk frequently until the mixture reaches 160 F on a candy thermometer.
Immediately remove the bowl and use an electric mixer to whisk the meringue to stiff peaks. Transfer meringue to a piping bag fitted with a medium round piping tip.
On the prepared baking sheet, pipe the meringue upward to create ghosts. Add 2 black sugar pearls for the eyes.
Bake the meringues for 1 hour; and then turn off oven and leave for 1 hour. Remove from oven to cool completely.
Recipe and image provided by Half & Half magazine.