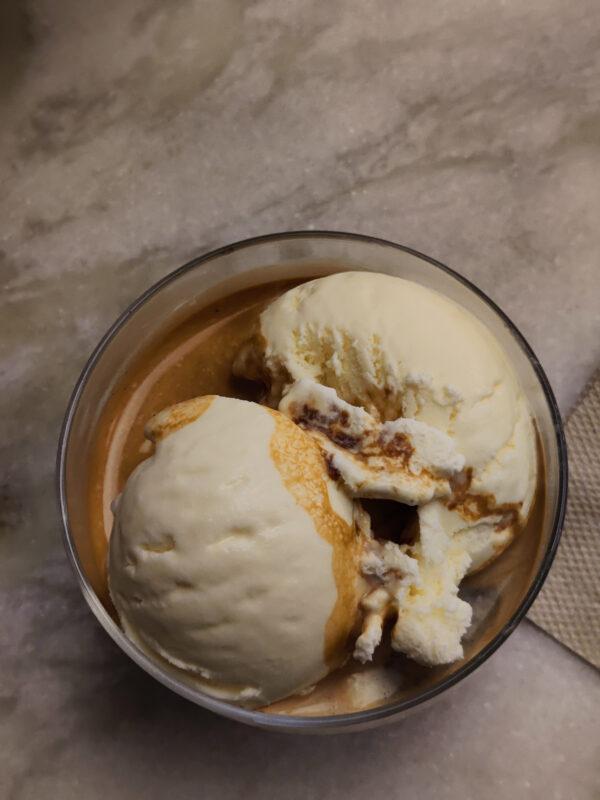 Cottage Cheese Ice Cream 
Basic Recipe Ingredients:
15 Ounces of Whole Milk Cottage Cheese
1/4th Cup of Honey
Variation Flavor Ingredients: 
Peanut Butter Chocolate Cottage Cream Cheese Ice Cream: 
1/4th Cup of Peanut Butter
1/4th Cup of Chocolate Chips
Strawberry Cheesecake Cottage Cheese Ice Cream:
1/2 Cup of Fresh Strawberries
1/4th Cup of crushed Graham Crackers
Banana Cream Pie Cottage Cheese Ice Cream:
1 Ripe Banana
1 Teaspoon of Vanilla Extract
Instructions:
Place the cottage cheese, honey, and any other ingredients in a high-powered blender or food processor and blend until it's silky smooth.
Fold in the topping ingredients of your choice.
Transfer the mixture into one or multiple freezer-safe containers of choice and freeze for at least 3-4 hours. Allow to thaw for 15 minutes before scooping.
Notes:
The nutrition label is for the base recipe with just cottage cheese and honey.
Storage: Allow it to freeze for about 3-4 hours before dipping for the best texture. After that, you can freeze your ice cream in an airtight container for up to 2 months.
Tips:
Use full-fat cottage cheese. Whole cottage cheese contains more fat, adding richness and creaminess to the ice cream. It also has a higher protein content than reduced-fat or fat-free cottage cheese, making it an excellent option for those seeking to increase their protein intake.
Blend in some ingredients. Depending on the flavor you're making, you may enjoy some of the ingredients being mixed into the base for a flavored cottage cheese ice cream with chunks of additional topping folded in before freezing.
Rest on the counter before scooping. Because cottage cheese can become icy when frozen, you'll want to take the chill off from the freezer. You'll get a cleaner, smoother scoop and it will taste more like ice cream.
Stir occasionally. To make sure that your cottage cheese ice cream doesn't get icy, once you've placed it in the freezer give it a good fold every 30 minutes. Cottage cheese has a good amount of water, so once you freeze it that water will also freeze. Keep it creamy with this quick step.