Chef Eric Watson's Vanilla Panna Cotta recipe is the exact reason we skipped dinner and moved straight to dessert.
Panna Cotta
3 cups Cass Clay Whole Milk
1 ½ cups Cass Clay Heavy Cream
½ ea. Lemon, zest Only
½ ea. Orange, zest only
2 Tbsp. Grand Marnier, or other orange liquer
6 oz. Sugar
1 Tbsp. Gelatin, powdered (bloom in 2T cold water)
Compote
1 ½ cup orange juice
1 ½ cup sugar
¼ cup maple syrup
1 lb. fresh cranberries
¼ cup orange rind, cut into thin strips
1 Tbsp. grated orange zest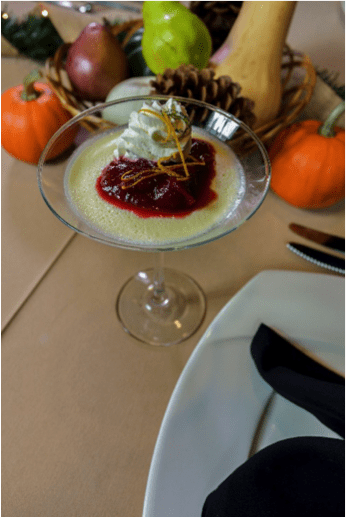 In a medium sized sauce pan combine cream, milk, zest, vanilla and liquer. Bring to a simmer. Add sugar and bloomed gelatin. Gently combine and allow sugar and gelatin to completely dissolve. Strain mixture though chinois. Pour equal amounts into desired serving vessels and refrigerate until set (approx. 4 hours).
In a sauce pan combine orange juice, sugar, maple syrup, cranberries, orange rind and orange zest.  Bring to a simmer and allow to cook until thick consistency is achieved and cranberries begin to pop with little pressure applied.  Refrigerate compote until ready to use.
Spoon cranberry compote on top of chilled panna cotta, top with fresh whipped cream and serve.