Adult mac n cheese? Yes, yes and yes! Chef Eric Watson's Gruyere Mac N Cheese with Fresh Rosemary & Caramelized Onion is a dream come true.
1 lb. Cavatappi Pasta
2 Tbsp. olive oil
4 Tbsp. unsalted butter
1 ea. Large shallot, thinly sliced
¼ cup dry white wine
¼ cup all-purpose flour
3 cups Cass Clay whole milk, room temperature
3 cups shredded Gruyère cheese
¼ tsp. ground nutmeg
Kosher or Sea salt & ground white pepper, as needed
2 tsp. fresh rosemary, chopped
1 Tbsp. fresh Italian parsley, chopped
2 cups toasted bread crumbs, panko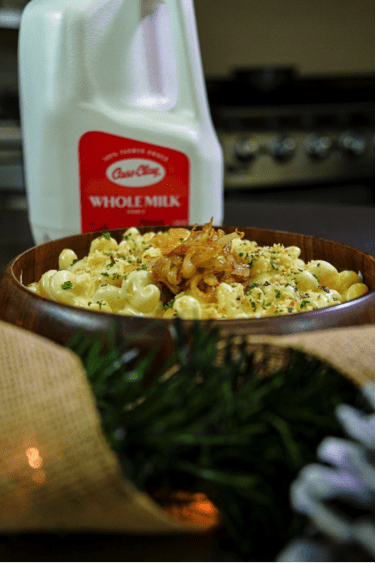 Bring a large sauce pan of salted water to a boil and cook pasta to al dente.  Strain the pasta and spread onto a baking dish to cool.  Do not rinse the pasta.
In a large saute pan melt butter and olive oil together.  Add shallots and saute lightly.  Deglaze pan with white wine.  Remove pan from the heat and incorporate flour to create a pan roux or paste.  Slowly whisk in the milk, making sure to avoid lumps.  Place pan back on medium heat allow mixture to come to a simmer, making sure to stir often to avoid burning.
When mixture is thickened remove from the heat and slowly incorporate the gruyere cheese.  Season with nutmeg, salt, pepper, rosemary and parsley.
Fold sauce into the cooked pasta and place in a baking dish.  Top with toasted bread crumbs and bake at 375 degree for approx. 10 minutes or until golden brown on top.