Leftovers have never tasted so good!
6 ea. Eggs
1 cup Cass Clay whole milk
½ cup Cass Clay Heavy cream
2 Tbsp. Shallot, finely minced
2 tsp. Dijon mustard
2 cups leftover turkey stuffing, broken or cut into small pieces
1 ½ cups Fresh spinach, lightly sautéed
1 ½ cups Shiitake mushrooms, sliced and sautéed
1 ½ cups Turkey meat, shredded (preferably dark meat)
1 ½ cups Gruyere Cheese, shredded
1 Tbsp. Italian parsley, finely chopped
kosher or sea salt, as needed
freshly ground black pepper, as needed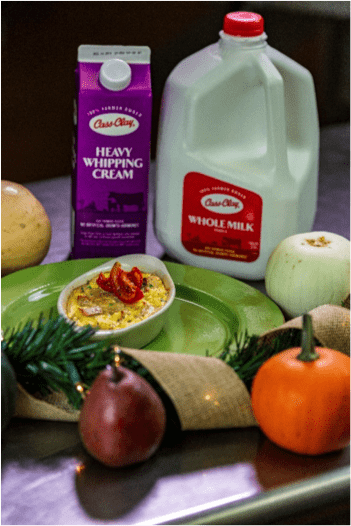 In a large mixing bowl whisk together eggs, milk and cream.  Add shallots and Dijon and combine.
In a separate mixing bowl combine stuffing, spinach, mushrooms, turkey, cheese and parsley.  Pour the egg and milk mixture over the stuffing mixture and gently combine.  Season with salt and pepper.  Place the combined mixture into a lightly butter coated baking dish of your choice.
Place in a 350-degree oven for approx. 30 minutes or until completely set but not overcooked.
Spoon onto individual plates and serve.