Behold– The perfect recipe for every holiday party. This Fresh Ricotta Cheese Toast with Pear, Toasted Almond & Honey is a crowd favorite.
2 qt. Cass Clay whole milk
1 cup Cass Clay heavy cream
½ tsp. salt
3 Tbsp. fresh lemon juice
2 ea. French baguettes
¼ cup Cass Clay butter, melted
2 ea. Ripe pears (variety of your choice)
toasted, slivered almonds, as needed
honey, as needed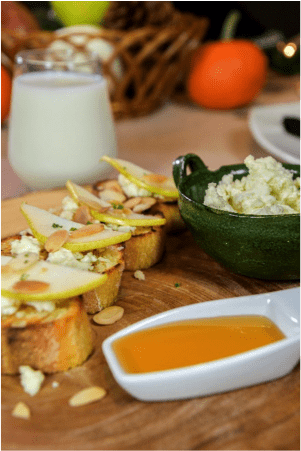 In a sauce pan combine milk, cream and salt.  Bring to a boil and reduce to a simmer.  Add the lemon juice and combine. Continue to simmer for 1 minute while stirring with a rubber spatula or wooden spoon,
When the milk is separated pour through a cheesecloth lined strainer.  Gently press the liquid through the cheesecloth and allow the collected cheese to cool.
Slice baguette into ¼ inch slices and brush with melted butter.  Season lightly with salt and pepper.  Place the baguette slices in an oven on broil setting.  Toast baguette slices until golden brown and slightly crispy.
Spoon fresh ricotta cheese on each baguette slice.  Thinly slice pears and arrange on baguette slices.  Sprinkle with toasted almonds, drizzle with honey and serve.