All. Things. Pumpkin. Pumpkin Pancakes with caramelized Banana & Golden Rum Raisins… We're drooling too.
Pancakes
1/4 cups all-purpose flour
1 Tbsp. granulated sugar
1 Tbsp. brown sugar
2 tsp. baking powder
1 tsp. kosher salt
1/2 tsp. cinnamon
1/2 tsp. ground ginger
1/8 tsp. ground nutmeg
1 cup Cass Clay milk, room temperature
1 Tbsp. Vanilla Extract
6 Tbsp. pumpkin puree
1 Tbsp. Cass Clay butter, melted
1 egg
Bananas
2 ea. Bananas
granulated sugar, as needed
crème brulee torch
Rum Raisins
¼ cup golden raisins
1 cups apple juice
1/8 cup spiced rum
1/8 cup granulated sugar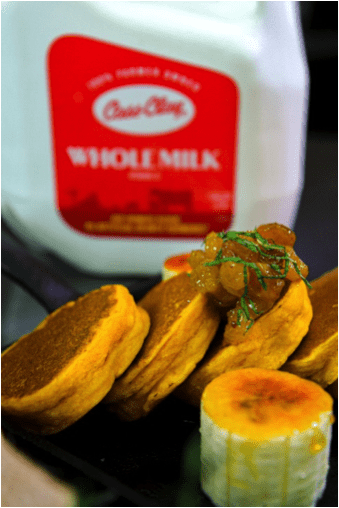 In a small sauce pan combine raisins, apple juice, rum and sugar.  Simmer until liquid is completely absorbed.  Set aside at room temperature until ready to use.
 In a bowl combine flour, sugar, baking powder, salt, cinnamon, ginger and nutmeg.  Make sure the ingredients are well combined.
In a separate bowl whisk together milk, vanilla, pumpkin, butter and egg.  Add the liquid ingredients to the dry and gently fold together using a rubber spatula. Make sure not to over mix.
Spoon batter onto a well-seasoned griddle and cook on both sides until golden brown.
Peel the bananas and cut into shape of your choice.  Sprinkle with sugar and immediately melt and caramelize the sugar with the crème brulee torch.  This should be done just before serving as the caramel will begin to soften within 10 minutes.
Place pancakes on individual plates and garnish with bananas and rum raisins.
Serve with pure maple syrup and butter.