We're taking our Thanksgiving dinner to another level with this Butternut Squash & Parmesan Gratin with Smoked Bacon recipe by Chef Eric Watson. Your Thanksgiving table won't know what hit it.
3 tablespoons Cass Clay unsalted butter
1ea. Shallot, thinly sliced
1 ea. Garlic clove, finely minced
1/4 cup dry white wine
3 tbsp. all-purpose flour
2 cups Cass Clay whole milk
1/2 cup Cass Clay heavy cream
1 (2-pound) butternut squash, peeled, seeded & small cubed
1/3 cup parmesan cheese, freshly shredded
2 tablespoons fresh thyme leaves
Kosher or Sea Salt, as needed
Freshly ground black pepper, as needed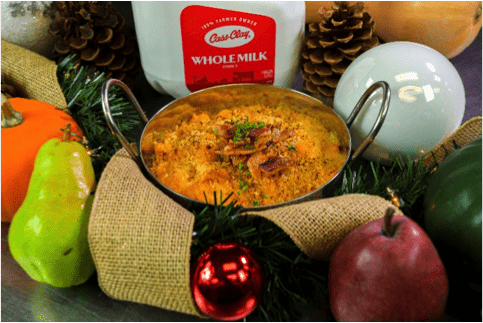 Brush the inside of the pumpkins with butter and season cinnamon, salt and pepper.  Place a crushed garlic clove in each pumpkin and place on a baking sheet.
Crimp a piece of aluminum foil over each pumpkin and bake at 375 degrees until pumpkins are tender (approx. 30 minutes, depends on the size of pumpkins).
In a large saucepan, sauté the pancetta with olive oil on medium heat until rendered and crispy. Add the onion and sauté until translucent in color.  Add the rice and continue to sauté for approximately 30 seconds to allow the rice to be well coated in oil and bacon drippings.
Deglaze the pan with white wine.  Add the chicken stock in small amounts at a time and stir the rice constantly while liquid is being absorbed (stirring improves the creamy texture).  Continue to add stock until rice is cooked to al dente (still has a pleasant firmness to the tooth, not mushy).
Fold in the turkey, cheese, butter, fresh herbs and pine nuts.  Season with salt and pepper and spoon into hot miniature pumpkins to serve.