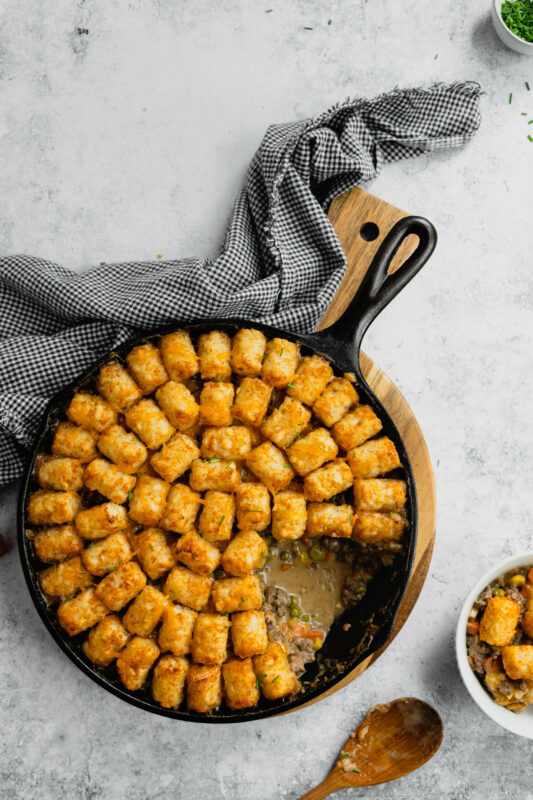 Ingredients:
1 tablespoon olive oil
1 medium yellow onion, diced
1 tablespoon kosher salt, divided
3 garlic cloves, minced
2 pounds ground sirloin
1 teaspoon seasoned salt
Freshly ground black pepper, to taste
2 tablespoons all-purpose flour
2 teaspoons cornstarch
1 tablespoon Worcestershire sauce
1½ cups beef stock
1 cup Cass-Clay Half & Half
1 pound frozen mixed vegetables
1 cup shredded sharp cheddar, divided
Frozen tater tots
Fresh chives, for serving
How to:
Heat oven to 400 F. Set a baking sheet on a lower rack while oven preheats.
Place a large cast-iron skillet over medium heat. Add olive oil and heat until simmering. Add onion and ½ teaspoon of the kosher salt, stirring to coat. Cook until onions begin to become translucent, about 3 minutes. Stir in garlic cloves and cook until fragrant, about 1 minute more.
Add ground sirloin, remaining kosher salt, seasoned salt and black pepper, to taste. Brown the meat thoroughly, stirring to ensure even cooking. Drain the fat and discard.
Sprinkle flour, cornstarch and Worcestershire sauce over the meat, stirring to coat. Add beef stock, followed by half & half. Bring mixture to a boil and simmer 10–15 minutes, or until sauce has reduced by half and thickened, stirring occasionally to prevent sticking.
Once sauce is thick, stir in the frozen vegetables. Taste filling and adjust seasoning, if necessary. Stir in ½ cup of shredded cheddar. Top with the remaining cheese and a single layer of frozen tater tots.
Bake in preheated oven for 15 minutes, or until tots are golden brown and filling is bubbling, making sure the skillet is set over the baking sheet to avoid any oven spills. Remove from oven, sprinkle with chives, if desired, and allow to rest for 5 minutes before serving.
Serves: 4
Prep: 1 hr
Recipe and image provided by Half & Half magazine.