Step aside 'Queso Dip' made with processed cheese. This new take on a creamy, cheesy sauce starts with a cheese sauce made with Cass Clay whole milk, and shredded Monterey Jack. Top with roasted corn and peppers, and all the traditional toppings inspired by classic Mexican Street Corn. Serve warm with tortilla chips and fresh vegetables.
4 Tablespoons unsalted

Cass Clay

butter

4 Tablespoons all-purpose flour

2 cups

Cass Clay

whole milk

8 ounces Monterey Jack or Pepperjack cheese, shredded

1 ½ teaspoons chili powder

½ teaspoon salt

¼ teaspoon cayenne pepper or chipotle pepper powder (optional)

1 (10 oz) package frozen cut sweet corn (about 1 ¼ cups)

1 jalapeno pepper, seeded and minced

½ cup red bell peppers, diced

½ cup green bell peppers, diced

¼ cup sliced green onion

¼ cup crumbled cotijo cheese

Sprinkle of 'Tajin' seasoning or other chili-lime seasoning (optional)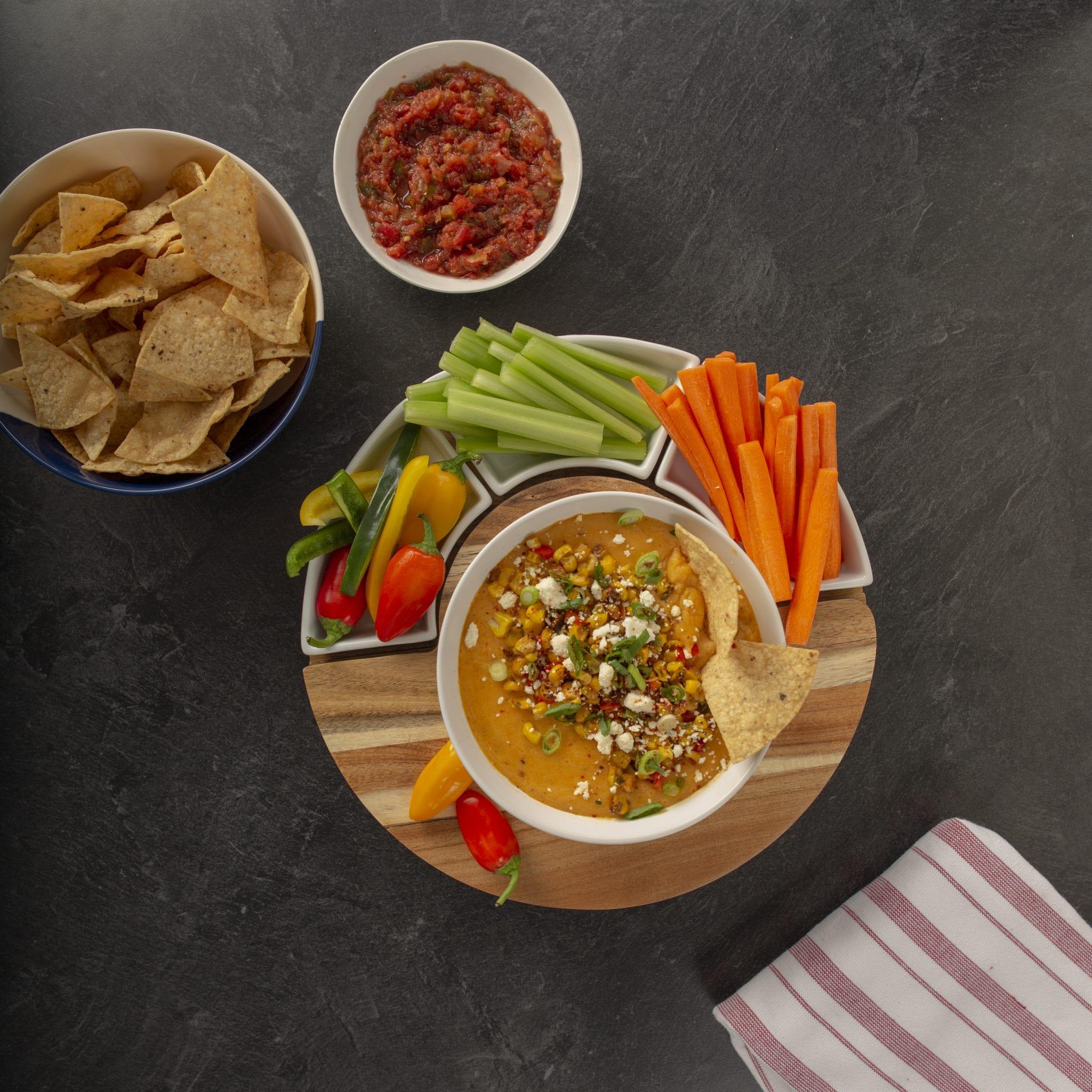 Melt butter in a medium saucepan and whisk in the flour and cook over medium heat while 

stirring for 1-2 minutes.

Gradually whisk in the milk, whisking to prevent lumps and stir over 

medium-low heat until the sauce is thickened.

When it is thick enough to coat a spoon, remove 

from heat and stir in the shredded cheese. Keep sauce warm while you prepare the toppings.

Heat the broiler in your oven and spray a sheet tray with cooking spray.

Spread the corn and 

peppers over the sheet tray and broil on a rack set 2" away from the broiler.

Broil until browned, remove and stir and return to the broiler to brown vegetables evenly.

Stir ½ of the vegetables into the warm sauce and pour into a heat-safe dish.

Sprinkle the remaining 

vegetables over the warm dip, and sprinkle with green onion, cotijo cheese and chili-lime 

seasoning.

Serve with tortilla chips and fresh vegetables. Add chopped fresh cilantro and a 

drizzle of sour cream or a squeeze of fresh lime juice if you like.