Makes about 4 dozen cookies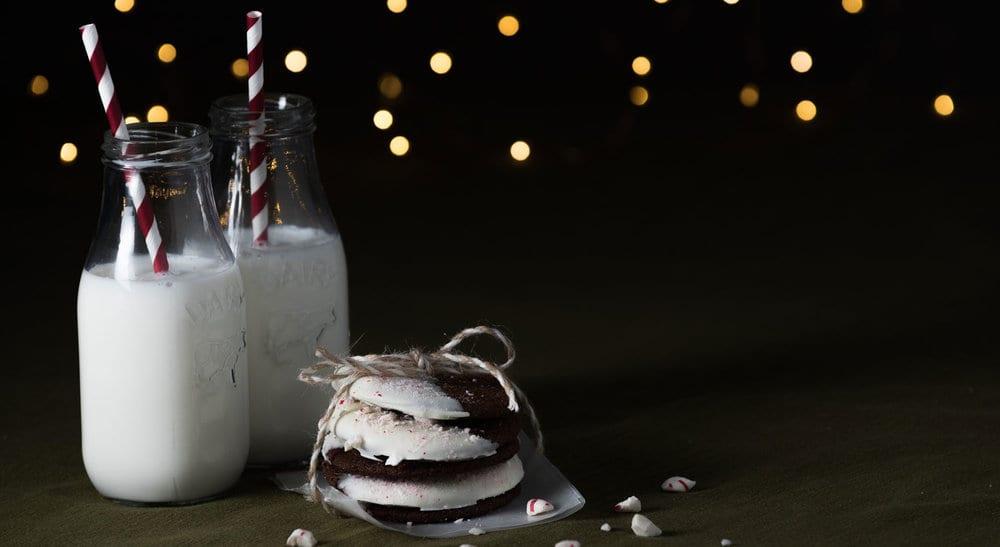 For the cookies
2 1/4 cups all-purpose flour
2 teaspoons baking soda
1/2 teaspoon table salt
1 tablespoon ground ginger
2 teaspoons cinnamon
½ teaspoon ground nutmeg
½ teaspoon ground cloves
1 tablespoon vanilla extract
2 sticks unsalted Cass-Clay butter, softened
½ cup sugar
½ cup brown sugar
1 large egg, lightly beaten
½ cup molasses
For the icing
14 ounces vanilla almond bark or white chocolate chips
1 cup peppermints, crushed into pieces
In a large bowl or bowl of your stand mixer with the paddle attachment, beat together butter and sugars together until fluffy. Meanwhile, sift together the flour, baking soda, salt and spices into a medium bowl.
Add egg, vanilla and molasses to the butter mixture and beat until combined. Add dry ingredient and beat at low speed until just combined.
Roll out some plastic wrap and spread half the dough onto the plastic, leaving enough room to fold the plastic wrap over to cover the dough. Press down to make rectangle about 1-inch thick. Repeat with the other half.
Refrigerate a few hours, or up to 3 days, until thoroughly chilled.
When you're ready to bake, preheat oven to 350 and line baking sheets with parchment paper.
Cut dough into 1-inch squares and roll into balls. Place on prepared baking sheets a few inches apart. Bake for 12 minutes or until edges are crisp. Cool on baking sheet for 3–5 minutes before transferring to a cooling rack. Cool completely before finishing with icing.
In a microwave-safe bowl, melt together the vanilla almond bark (chopped finely) or white chocolate chips. This should take about two minutes, making sure to stir every 30 seconds.
Roll out some wax paper. Dip or drizzle cookies with melted chocolate and sprinkle with crushed peppermints. Lay on wax paper to cool. Store cookies in an air-tight container for up to one week.
*If you have a family favorite ginger snap or gingerbread cookie recipe, opt for that and jazz it up with white chocolate and peppermint.
Recipe courtesy of Half & Half magazine, a food magazine celebrating dairy and those who make it. Learn more and subscribe at halfandhalfmag.com