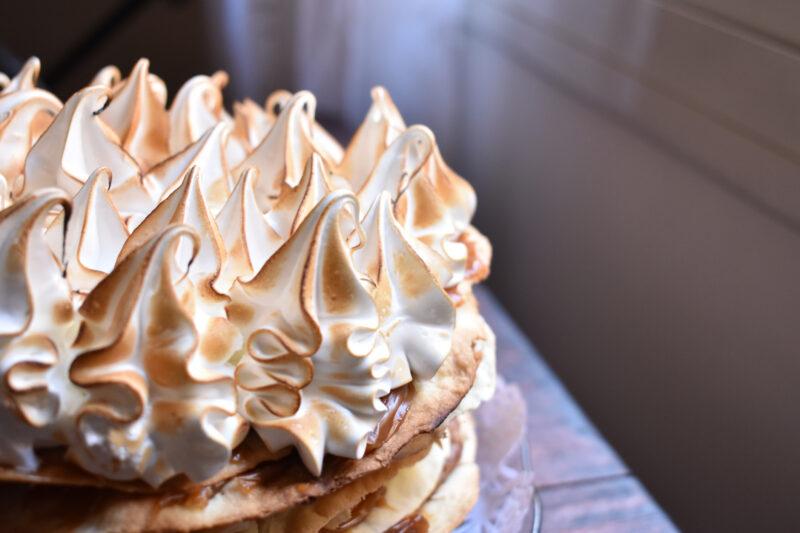 Homemade Banana Pudding 
Prep Time: 30 min
Cook Time: 10 min
Total Time: 40 min
Servings: 8
Ingredients:
4 large eggs
1 cup sugar
3 tablespoons cornstarch
1⁄2 teaspoon salt
3 cups milk
2 teaspoons vanilla
3 tablespoons sugar
1⁄4 teaspoon cream of tartar
4-5 medium ripe bananas
45 vanilla wafer cookies (approximately)
Instructions:
Preheat oven to 375°.
Separate eggs, reserving whites for the meringue topping. Place yolks in a small bowl.
Combine 1 cup sugar, cornstarch, and salt in a medium saucepan, whisking until well combined. Add milk to the sugar mixture, then gradually whisk in egg yolks. Cook over medium heat, whisking constantly, until pudding thickens, about 10-12 minutes. Remove from heat and stir in vanilla. Set aside to cool.
In a medium mixing bowl using an electric mixer, beat egg whites at high speed until foamy. Add 3 tablespoons sugar and cream of tartar; continue beating until stiff peaks form. Set aside until needed.
Peel bananas and cut into 1/3-inch-thick slices.
In a 3-quart oven-safe dish, place an even layer of vanilla wafers on the bottom of the dish. Top with a layer of sliced bananas and about half of the pudding. Repeat layers, ending with bananas.
Spread egg white mixture over the top, covering the pudding completely. Use a spatula to make small peaks.
Bake for approximately 10 minutes, or until the top is golden brown. Let cool for 30 minutes if serving warm, or chill for an additional hour and serve cold.