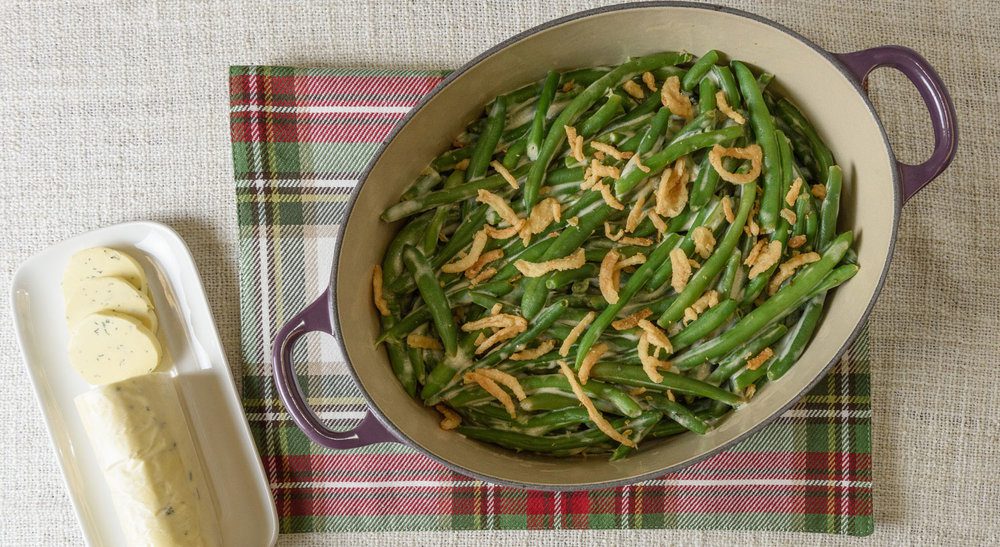 Fancy Green Beans
2 pounds fresh green beans, snapped
2 tablespoons Truffle Herb Butter (recipe below)
2 tablespoons all-purpose flour
¾ cup low-sodium chicken broth or stock
½ cup half and half
¼ cup parmesan, grated
Salt and pepper to taste
½ cup crispy onions
Truffle Herb Butter
8 ounces Cass Clay Butter, unsalted
1 ½ teaspoons truffle oil
1 ½ teaspoons fresh thyme, chopped
1 teaspoon fresh sage, chopped
Combine softened butter in a medium-sized bowl with oil, thyme and sage. Beat until fluffy. Scoop butter onto one end of a rectangular piece of parchment paper, leaving room on the sides. Fold the end with the butter over, tucking tightly to form a log. Roll until you've reached the end of the parchment. Twist the ends and secure with string or bread ties. Refrigerate for at least 12 hours.
Heat oven to 350 F.
Steam or blanch green beans to where they are tender, but still have a slight snap to them. Set aside.
In a heavy-bottomed pot, melt butter over medium heat.
Whisk in flour until butter fully absorbs, about two minutes.
Continue whisking and add in the chicken broth. Once combined, add in the half and half.
Reduce heat to low and let simmer until slightly thickened, about five minutes. Stir in parmesan and salt and pepper.
Add the green beans and toss to coat.
Butter a deep casserole dish and pour in green bean mixture.
Top with crispy onions and bake 15 minutes, or until heated through and the top is crispy.
Recipe courtesy of Half & Half magazine, a food magazine celebrating dairy and those who make it. Learn more and subscribe at halfandhalfmag.com