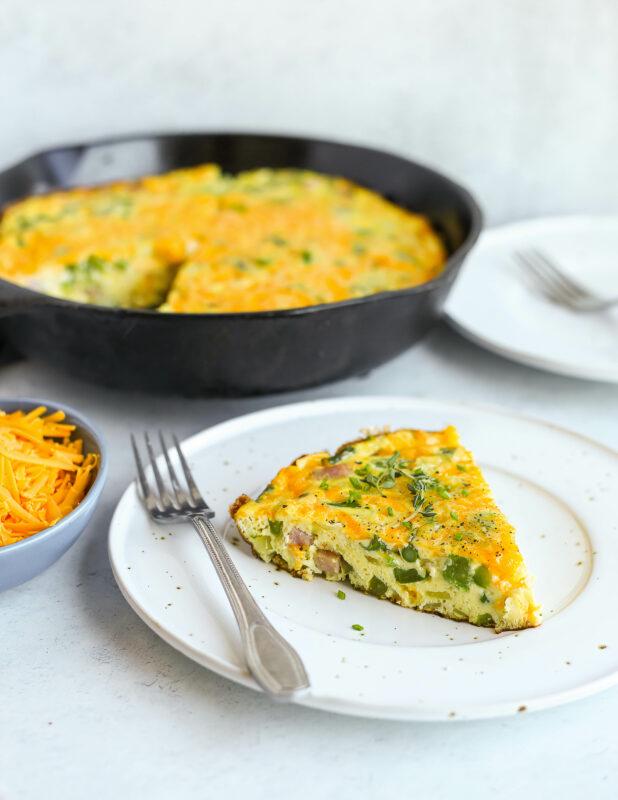 Ingredients:
1 tablespoon cooking oil
⅔ cup green bell pepper, diced (about 1 medium pepper)
⅔ cup yellow onion, diced
⅔ cup asparagus, cut into 1-inch spears
1 cup cooked ham, cut into ½-inch cubes
9 large eggs
⅓ cup Cass-Clay whole milk
¼ teaspoon kosher salt
⅛ teaspoon black pepper
⅔ cup + ⅓ cup extra sharp cheddar cheese, shredded
How to:
Heat oven to 425 F. Heat the cooking oil in a well-seasoned cast-iron or oven-safe nonstick skillet over high heat. Once heated, add the bell peppers, onion, asparagus and ham. Cook on high heat, stirring occasionally for 4–5 minutes, or until the onions become fragrant.
Meanwhile, crack the eggs into a mixing bowl. Add the milk, salt and pepper, and whisk together until combined. Fold in ⅔ cup of the shredded cheese.
Pour the egg mixture into the skillet, distributing evenly over the vegetables and ham. Do not stir.
Cook until the edges begin to set and pull away from the sides of the skillet. Top with the remaining ⅓ cup shredded cheese; then, transfer the skillet to the preheated oven.
Cook for 10–12 minutes until the center is set. Remove from oven and allow the frittata to cool for 5–10 minutes. Slice and serve immediately, garnishing with fresh herbs, if desired.
Notes: Don't be alarmed if your frittata puffs or expands while baking and then collapses as it cools. Trapped steam makes it rise during cooking, but the vegetables (plus milk and cheese) will give your frittata a smooth, dense texture without becoming rubbery.
Recipe and image provided by Half & Half magazine.