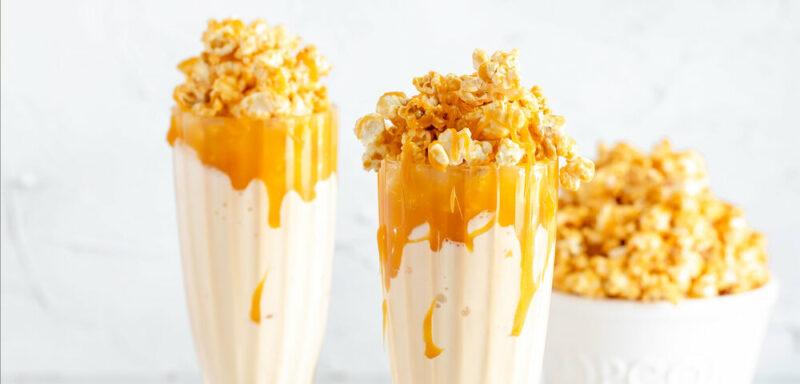 Ingredients:
For the salted caramel popcorn:
1 cup granulated sugar
6 tablespoons unsalted butter
⅓ cup Cass-Clay heavy cream
½ teaspoon kosher salt
8 cups plain popped popcorn (about ¼ cup of kernels)
For the milkshakes:
3 cups (about 6 scoops) vanilla ice cream
1 cup Cass-Clay whole milk
2 tablespoons salted caramel (recipe included)
How to:
For the salted caramel popcorn:
In a heavy-bottomed saucepan over medium heat, add sugar and stir every 1–2 minutes, until it begins to melt. (The sugar will start to clump before melting). Once the sugar is completely melted and a golden color, immediately remove from heat and stir in the butter until combined. (It will bubble a lot.) Add in the heavy cream and salt, and mix until fully combined and smooth. Pour the salted caramel into a glass jar to cool. (It can be stored in the refrigerator for up to 1 month. If you make the salted caramel the night before, store it in the refrigerator, but then let it sit at room temperature until it reaches a pourable consistency.)
Heat oven to 275 F and line a baking sheet with parchment paper. Place the popcorn in an even layer on the baking sheet and drizzle with about ⅓ cup of salted caramel (more or less as desired) and stir to coat. Bake 15–20 minutes, stirring every 5 minutes, or until the caramel has begun to form a shell on the outside of the popcorn. Remove from the oven and let cool.
For the milkshakes:
In a blender, combine ice cream, milk and salted caramel, and blend until smooth and creamy. Drizzle leftover salted caramel inside your milkshake glasses. Pour milkshake into glasses and top with salted caramel popcorn.
Recipe and image provided by Half & Half magazine.