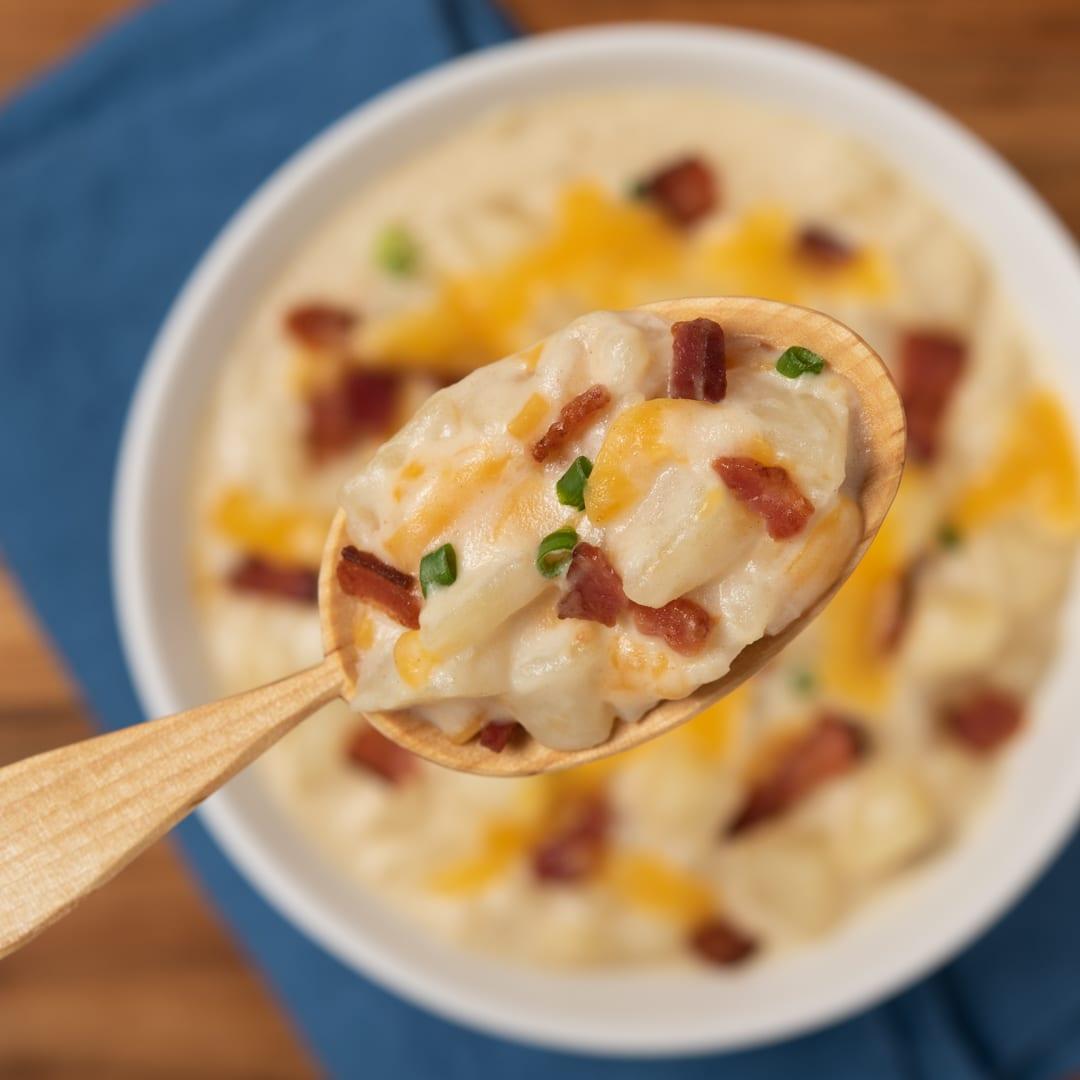 1 pound bacon, cut into 1/2-inch pieces
1 medium onion, chopped
32-ounce bag frozen diced hash brown potatoes
1/4 cup butter
3 tablespoons all-purpose flour
1/2 teaspoon salt
1/4 teaspoon pepper
1 pint (2 cups) Cass-Clay Heavy Whipping Cream
3 cups milk
Salt and pepper
Hot pepper sauce or hot chili sauce
Shredded Cheddar Cheese Sliced green onion
Sour Cream
1. In large skillet cook bacon over medium high heat until brown and crispy (6 to 8 minutes). Place bacon on paper-towel lined plate. Set aside.
2. Drain off and discard all but about 2 tablespoons bacon drippings. Add chopped onion to skillet with bacon drippings. Cook over medium high heat until soft and beginning to brown (2 to 3 minutes).
3. Add hash brown potatoes to onion. Continue cooking over medium high heat until potatoes begin to soften (8 to 10 minutes).
4. Meanwhile, in large Dutch oven or soup pot melt butter over medium high heat. Whisk in flour, salt and pepper until mixture is bubbly. Gradually whisk in whipping cream and milk. Continue whisking until mixture is slightly thickened (1 to 2 minutes).
5. Stir in potato and onion mixture. Bring soup to a simmer; reduce heat to low and simmer until potatoes are tender (5 to 8 minutes).
6. Stir in half of cooked bacon pieces.
7. Season to taste with salt, pepper and hot pepper sauce, if desired
8. Serve immediately garnished with remaining bacon, cheese, green onion and sour cream.