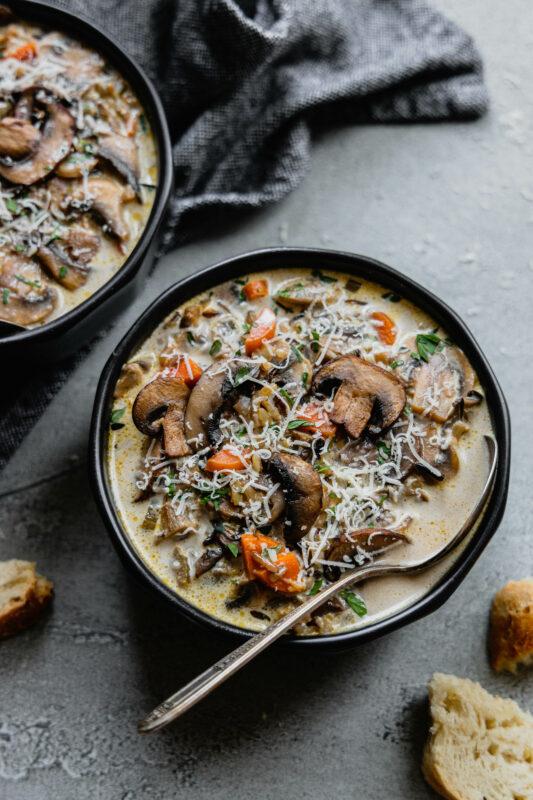 Ingredients
2 tablespoons olive oil, divided
1 pound baby portabella mushrooms, sliced
1 pound white button mushrooms, sliced
8 ounces oyster mushrooms, chopped
4½ teaspoons kosher salt, divided
2 tablespoons salted butter
1 large white onion, diced
4 celery stalks, ends trimmed, diced
3 medium carrots, diced
3 garlic cloves, minced
1½ cups wild rice blend
1 bay leaf
1 tablespoon fresh thyme
2 tablespoons balsamic vinegar
1 tablespoon Worcestershire sauce
4 cups beef stock, divided
2 cups Cass-Clay Heavy Cream
Freshly shredded Parmesan cheese, for serving
How To
In a large Dutch oven or soup pot with a lid, heat 2 teaspoons of the olive oil over medium heat.
Add sliced portabella mushrooms and sprinkle with 1 teaspoon kosher salt. Stir to coat and cook, stirring occasionally, until mushrooms have released their natural moisture, it has evaporated and mushrooms are browned. Remove mushrooms from pot and set aside. Repeat the browning process with another 2 teaspoons of olive oil, button mushrooms and 1 teaspoon kosher salt. Remove from pot and set aside. Finish with 1 teaspoon olive oil, oyster mushrooms and 1 teaspoon kosher salt. Remove from pot and set aside.
Add the final teaspoon of oil to the pot, along with the salted butter. Add onion, celery, carrot, and 1½ teaspoons kosher salt, stirring to coat. Cook stirring occasionally, until vegetables have begun to soften, about 5 minutes. If necessary, add a splash of stock to deglaze the pot and get the browned bits off the bottom. Stir in garlic, cooking until fragrant, about 1 minute more.
Add wild rice. Then, stir in bay leaf, fresh thyme, balsamic vinegar and Worcestershire sauce. Stir in 3 cups beef stock and bring mixture to a boil. Cover and simmer 40 minutes, or until rice is tender and has absorbed most of the liquid. Stir in remaining stock, heavy cream and reserved mushrooms. Top with freshly grated Parmesan cheese to serve.
For a thinner soup, add an additional 1 cup beef stock after rice has cooked.
<strong>Recipe courtesy of Half & Half magazine, a food magazine celebrating dairy and those who make it. Learn more and subscribe at halfandhalfmag.com.</strong>