We introduce to you a 30-minute pasta dish that everyone will love. Turn this generic beef stroganoff into a game changer with our "Top the Tater" original sour cream!
Serves 4
1 ¼ pounds tenderloin, sliced.
1 yellow onion, thinly sliced
12 ounces Portobello mushrooms, sliced
2 tablespoons olive oil
4 tablespoons Cass-Clay butter, divided
¼ cup flour
1 ¼ cup beef stock
1 ½ cup Cass-Clay "Top the Tater" original sour cream dip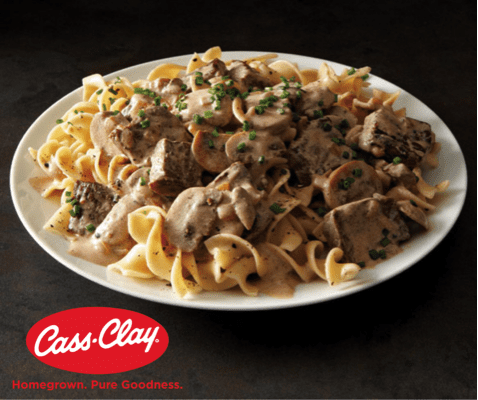 Heat a large skillet over medium high heat. Add 2 tablespoons olive oil.
Season tenderloin with salt and pepper and add to skillet. Brown the pieces, remove from skillet, and set aside.
Add sliced onions and mushrooms to skillet with 2 tablespoons butter. Cook until the onions are beginning to caramelize and the mushrooms are golden brown.
Add remaining 2 tablespoons of butter. Once melted, sprinkle the flour and whisk in the beef stock.
Simmer until mixture has thickened. Add in salt and pepper to taste.
Remove from heat and stir in "Top the Tater" original sour cream dip.